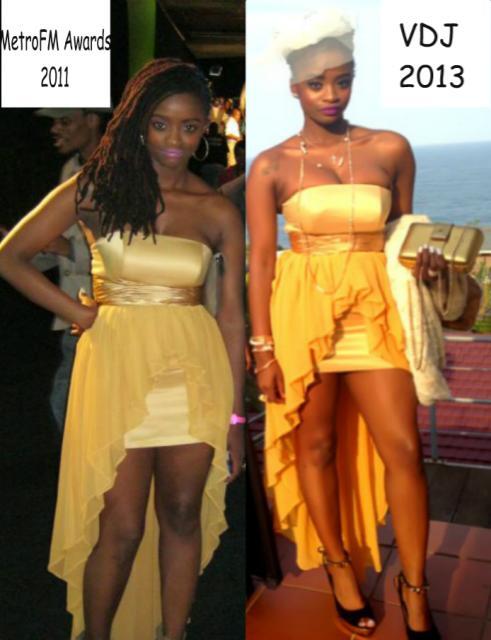 Posh Oh My Gosh!
Poor Samkelo Ndlovu (No Pun intended.) The actress had twitter attacking her like mad when she wore the same dress she had worn 2 years ago at the Metro Awards at the Durban July this saturday. The young girl was posting pictures on Twitter when someone noticed! Ouch! BTW She will be joining Rhythm City as Fats's Cousin this July.

Pearl Thusi and RGB Part ways Bye Pearl Thusi! The Presenter, Actress, Model and among other things was fired from the show according to Move Magazine. Pearl confirmed this by tweeting RGB that she was grateful for the experience. Then she tweeted something about Move Magazine being determined to see her fail and how they will 'Move' onto someone else. Iyho
Dj Sbu Shut up Please! The respect I have for this man is slowly dying. He recently tweeted about people not loving Black Coffee for his music but in Awe of what he can do with one hand. Sir, that was out of line. You always 'preach' about Respect on Friends Like These yet you do not show it to others
Isolezwe though! The shadiest newspaper in South Africa! After being nominated for the BET awards, Toya Delazy and Donald lost to Ice Prince and Isolezwe had to Publish a story that had a headline "Ababuyanga nalutho" meaning they returned with nothing. Tjo!

The auditions for Africa's Next Top Model have begun. Started in Mozambique this Saturday, the show will be Hosted by Nigerian-born Model Oluchi Orlandi who will be filling in the shoes of Tyra Banks as producer and Mentor.